James Nolan impartirá clases del 6 al 10 de junio de 2011 en el «Seminario sobre interpretación simultánea» que organiza el Western State College de Colorado en Gunnison, Colorado (EE. UU.). El seminario está dirigido especialmente a intérpretes de español con experiencia (un máximo de 15).
El menú del seminario es de lo más apetitoso (una pena que sea tan lejos): oratoria, preparación, anticipación, comprensión y sintaxis compleja, orden de palabras, grupos de palabras, cláusulas adverbiales generales, intraducibilidad, figuras del discurso, argumentación, dicción, registro, estilo formal, alocuciones políticas extensas, citas, alusiones, transposiciones, el discurso político, el discurso económico, humor, latinismos, cifras, y toma de notas.
James Nolan cuenta con una dilatada experiencia como intérprete (A: inglés; C: francés y español) en Naciones Unidas y es además un reconocido lingüista y escritor. Fue subdirector de la División de interpretación, reuniones y publicaciones de Naciones Unidas, director del Servicio de conferencias del Tribunal internacional del derecho del mar, y Jefe del servicio de actas literales de la ONU. Ha impartido clases, cursos y seminarios sobre interpretación en numerosas universidades (New York University, University of Ottawa, Glendon College, Marymount Manhattan College, Monterey Institute of International Studies, Howard University, Universidad de Belgrano, University of Wisconsin y University of the Witwatersrand) y es consultor también en organismos como el OSCE, US National Center for State Courts, Canadian Forces Language School y Canadian Language Industries Association (AILIA).
Información y formulario de inscripción
Nolan, James (2005). Interpretation Techniques and Exercises. Multilingual Matters, USA. 320p.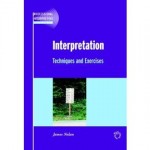 Nolan, James (2008). English-Spanish/Spanish-English Pocket Legal Dictionary. Hippocrene Books, USA.
278 p.